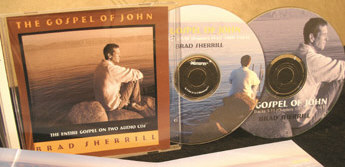 THE GOSPEL OF JOHN: A NEW 2-CD AUDIOBOOK
Performed by Brad Sherrill
Out of stock.
Brad's new "live-in-the-studio" recording of John's entire gospel includes two audio CDs, chapter guide, beautiful 12-page color booklet and original music composed for the audiobook.
You may order The Gospel of John: Audiobook now with your credit card using Paypal (you do not have to become a member of Paypal in order to make the purchase.) Allow 10 days for delivery.
Please purchase now in the box to the upper right.